HDS9101(6-CH) Portable Video Switcher
DeviceWell
New HDS9101 Portable Video Switcher can bring you wonderful multi-camera live production! SD, HD or Ultra HD video format input adaptive, can directly record PGM video source to SD card, built-in media player can load all kinds of pictures or video materials on-site, you can easily create exciting programs.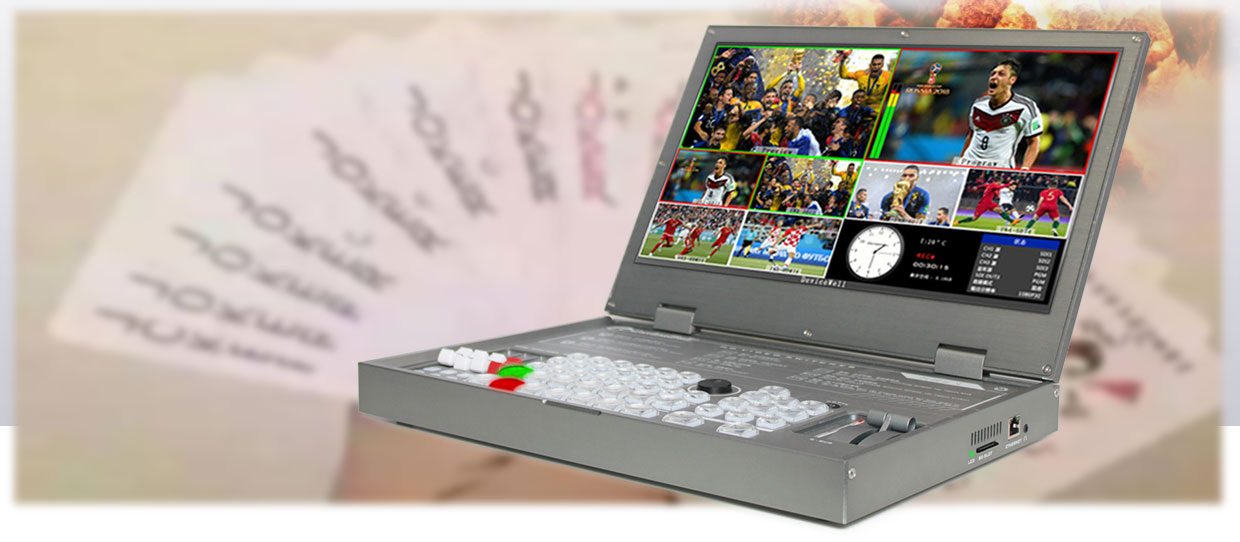 Powerful Switcher
A live production switcher with display and control panel!
HDS9101 portable switcher is a classic switcher. It adopts portable All-In-One design, all-aluminum alloy case, small size and light weight. It integrates LCD display, mixer, T-Bar and multiple function buttons. Among them, multiple video interfaces are more powerful. 4-CH broadcast SDI and 2-CH DVI/VGA/HDMI/USB input, a total of 6-CH video signals, to meet the needs of on-site production in a variety of occasions.
Standard size: 375*255*44.69mm
HDS9101 supports SDI embedded audio + external analog audio. After mixing, it can be embedded in the output SDI signal or output from the analog port. Built-in USB multimedia player, support video, picture, can be quickly controlled through the control panel. The resolution of all input signals is automatically adapted, and the output signal resolution can be selected according to requirements, which is quite flexible. Built-in recording function, HDS6110 can fully satisfy the video switching needs of live broadcast TV programs, live sports events, and large-scale evening events.
Applications:
HDS9101 can produce professional HD TV programs on the spot!

Function Features:
Wonderful event needs, stronger switcher
HDS9101 Support Multiview
When the HDS6110 is used to create a multi-camera live program, you can divide the multi-screen output and display up to 8 video signals on one HDMI TV! As a result, you can view the various screens, Tally prompts, graphics, previews, and final program output on the same monitor.
HDS9101HDS9101 supports two time display modes, the analog mechanical dial and the digital clock. After the device is inserted into the SD card, the SD card recording status and the remaining SD card storage space are displayed in real time, making the on-site production easier.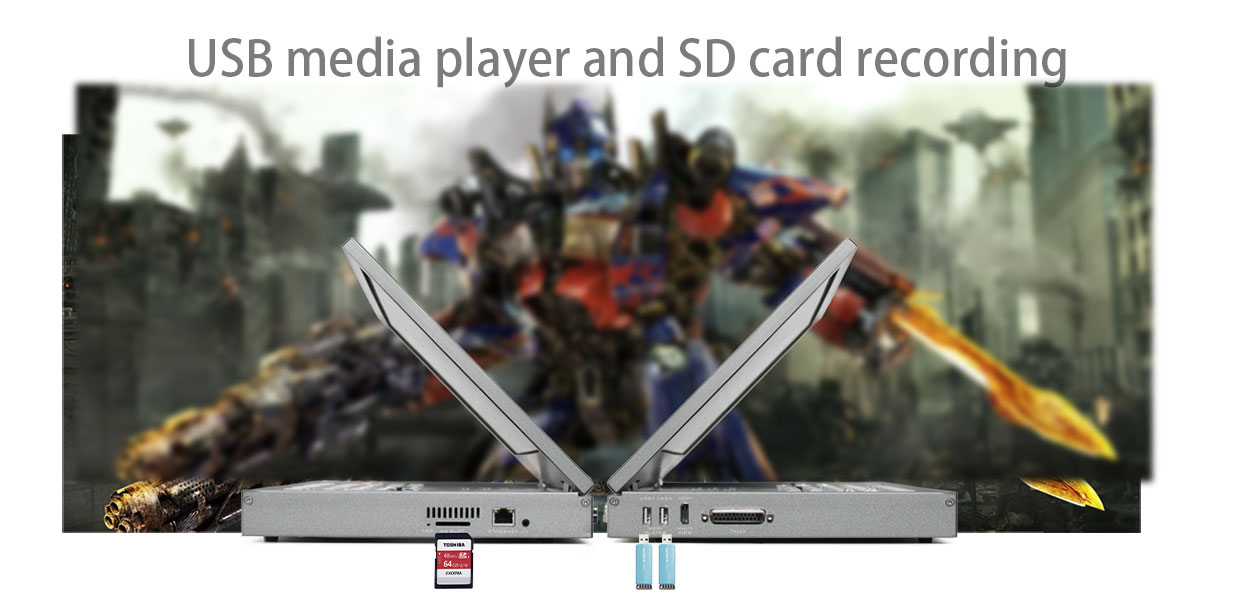 HDS9101 supports SD card recording, PGM live output one-click recording to SD card, support MP4 format recording, recording resolution 1080P60
Support for playing pictures and videos
Picture playback support:JPEG、BMP、PNG
Video playback support: .avi、.mpg、.dat、.vob、.div、.mov、.mkv、.rm、.rmvb、.mp4、.mjpeg、.ts、.trp、.wmv、.asf、.flv
KEY
LUMA KEY AND CHROMA KEY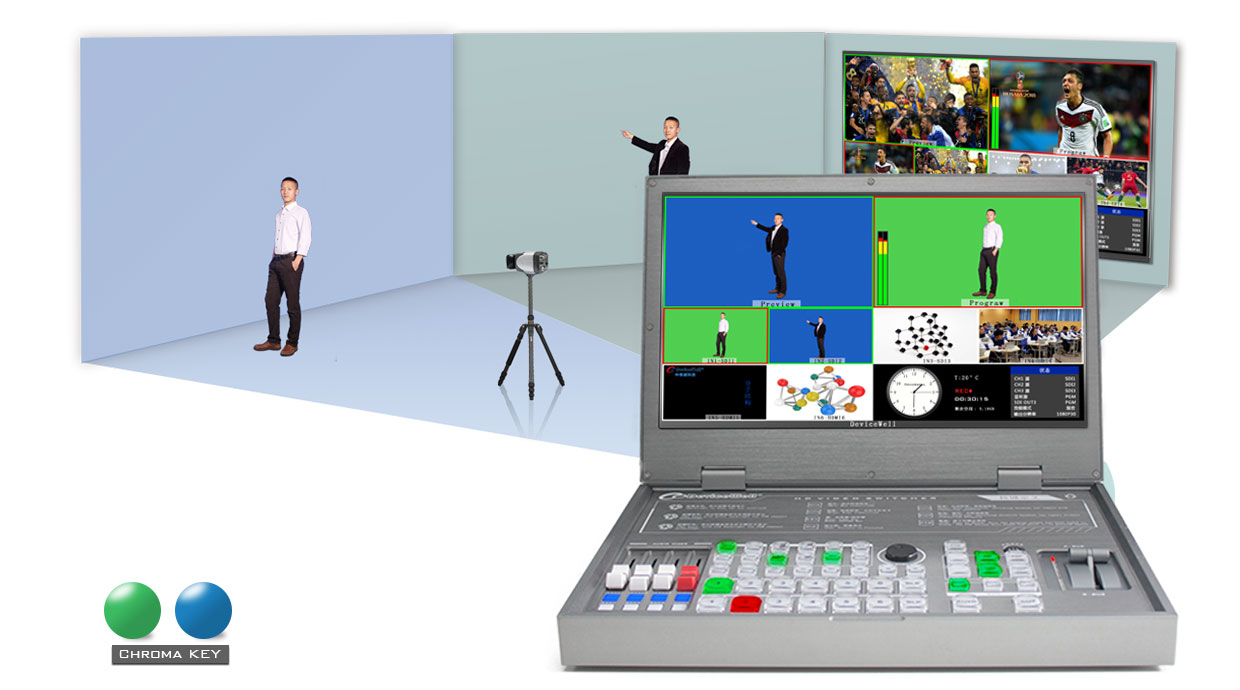 Luma Key
The Luma key supports the dynamic video source image and the static source image, and the switcher will buckle the black part and retain other colors.
Chroma key
Chroma key supports both dynamic video sources and static source artifacts. The switcher will deduct blue or green portions and retain other colors.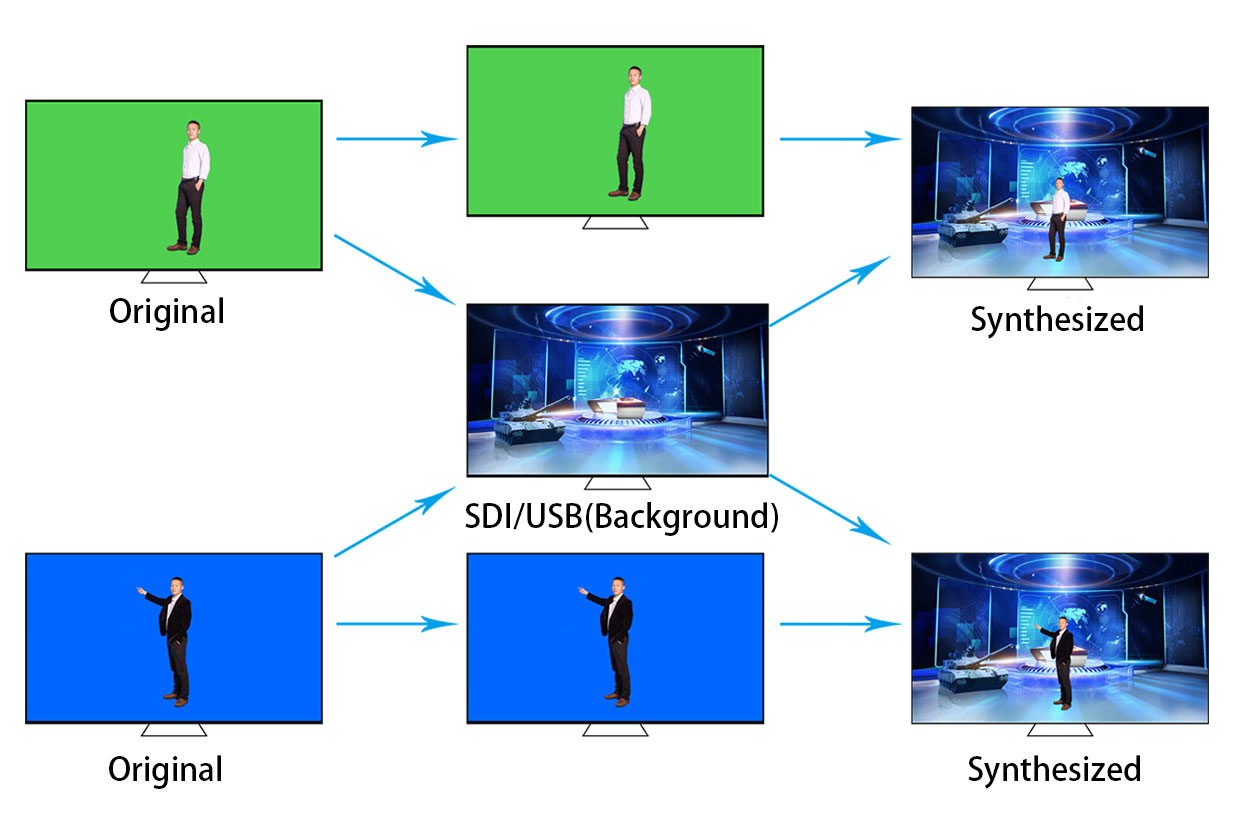 Emergency Output
Press the FTB live screen to directly output the black field

Unparalleled Effects Switching
You can choose to use MIX hybrid, WIPE wipe and FADE fade-in broadcast high-quality transitions on-site to achieve excellent switching between screen sources! The transition time can be adjusted arbitrarily, and the stroke direction supports up to 8 kinds! It will help you to create high-end and exciting programs.
MIX Effects

MIX transition effect, superimposed B picture in A picture until the transition to the end, the picture is completely replaced with B picture
WIPE Effects
WIPE effect, the A picture is unchanged, the B picture is gradually drawn in the selected direction; the HDS7103 supports the wipe transition in 8 directions, which can be configured in the menu.
FADE Effects
FADE in and out, A gradually darkens until it is completely black, and then gradually changes from black to B.
Switcher New technolgy Guide switcher Special effect switcher Video switcher Professional switcher Professional equipment