Devicewell · HDS9110 HD multi-camera live broadcast solution
HDS9110 HD live broadcast solution
With the implementation and development of 5g network, online live broadcasting platforms are growing everywhere, and the era of national live broadcasting has come. With the growing demand for online live broadcasting, it is quite important to have a professional live broadcasting room if you want to create a professional live broadcasting. Live broadcasting activities have entered all aspects of our lives. To have a good live broadcasting, it is very important to have a professional live broadcasting room. A good live studio needs a professional guide Station / switching station. Devicewell company focuses on providing you with professional guide Station and professional live broadcasting solutions, including online Red live broadcasting, enterprise live broadcasting with goods, large-scale party live broadcasting, online education live broadcasting, etc.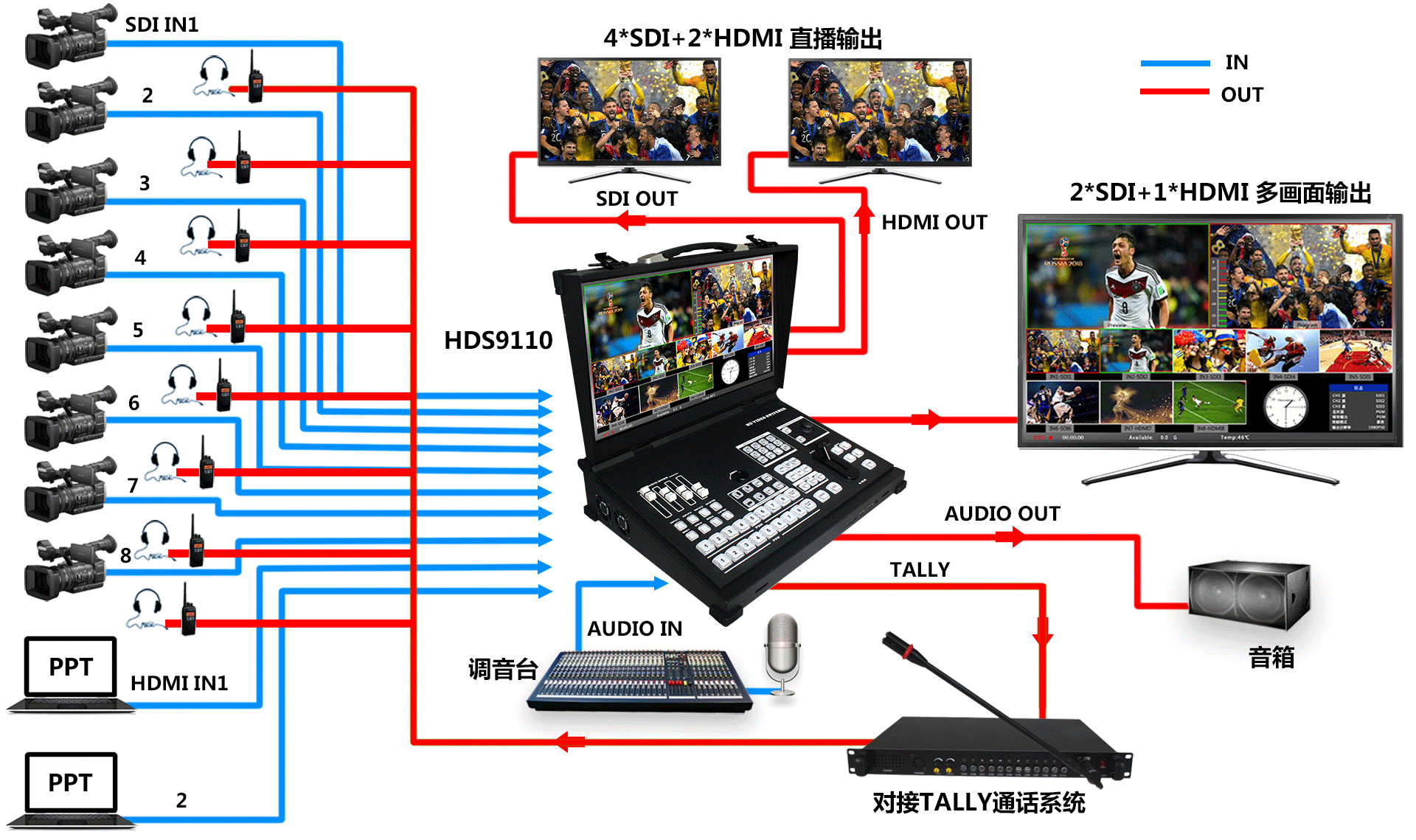 Live program equipment list:
1. 10 SDI HD cameras, 2 computers,
2. 1 devicewell hds9110 high definition special effects switching station,
3. A blue background wall
4. 1 set of wireless one pull eight tally communication system,
5. 3 sets of 17 inch vertical screen HD monitor of devicewell
6. 1 set of professional mixer and microphone
7. 1 set of devicewell acquisition card / streaming box
8. 2 laptops
9. 1 devicewell SDI hard disk video recorder
10. 4 sets of professional live lights
11. 1 set of devicewell DCB professional one pull eight wireless tally lamp (including transmitter)
12. A set of professional headphones
13. A 128G fast flash SD card
HDS9110, a 10 channel switcher of devicewell, integrates multiple control modes. Special effects and transition modes can be set by keyboard. LCD menu can be controlled by knob. LCD will display various states of the current device in real time. Built in menu display function can set the device more intuitively and efficiently. Rocker can control the distance of the camera. The 10 channel switching station HDS9110 of devicewell has 8 channels of SDI, 2 channels of HDMI and 2 channels of USB flash disk to play the input video signal, with a total of 6 channels of SDI output and 3 channels of HDMI output broadcast level video signal. HDS9110, a 10 channel switcher, is suitable for live performance, course recording and studio guidance. The switcher has many functions. Such as multiple formats of video input and adaptive input resolution, analog balanced audio input and output, audio embedding and de embedding, mixing, tally, SD card recording, RS422 and RJ45 control, with remote upgrade capabilities. Users can perform video switching and audio mixing functions with additional effects through simple operation.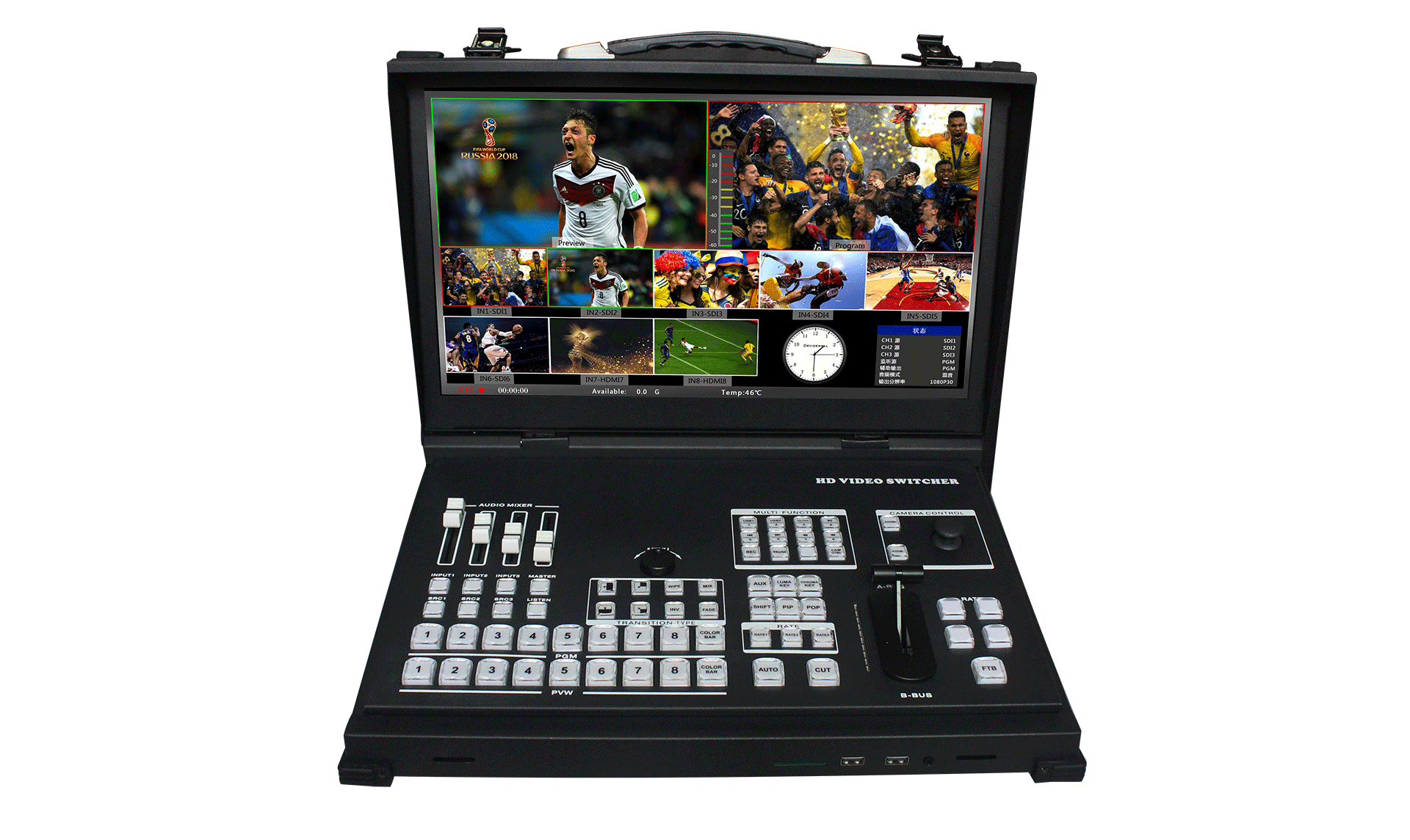 Functional features:
Devicewell switcher is a multi-functional switcher, which can switch video and mix audio through simple operation without professional knowledge. This machine can be used in broadcasting, live broadcasting and various activity places.
Input: 8-way SDI, 2-way HDMI and 2-way USB, a total of 12 channels.
Output: 4-way SDI, 2-way HDMI live PGM output, 2-way SDI, 1-way HDMI multi picture output.
1 set of XLR balanced audio input; One set of XLR balanced audio output; Support SDI audio embedding; Support audio follow and mix switching.
Support mix / face / wide / inv switching effects; Support cut hard cutting, auto automatic switching and FTB black field emergency switching; The switching rate can be set.
1 set of keys, support brightness key, chroma key matting processing, support overlay Icon.
Support camera control, up to 8 cameras.
Color bar and other test images can be generated inside the device.
Support SD card to record PGM live video.
Support RS422 interface to control camera.
Media management function, support two USB media play, you can choose to play video or pictures.
Support 10 picture segmentation and supervision.
Support PIP picture in picture and pop picture out function, the size and position of sub window can be adjusted at will, and the border thickness and color can be set.
Input support 3G, downward compatible
The configured LCD panel can be controlled by knob, which is convenient for setting various parameters of the device and displaying the working status of the device in real time.
Support audio monitoring function, easy to monitor any channel of audio and PGM live output audio.
Adaptive input resolution and adjustable output resolution.
Support SD / HD / 3G signal format
Support TALLY interface signal indication.
The Devicewell HD video recorder is made of metal shell, strong in strength and anti-interference. The equipment integrates common components of the switching table such as mixed audio processor, OSD menu, control keyboard and LCD panel.
HDR6101 adopts embedded Linux operating system and standard H.264 compression algorithm. Support 1-channel HDMI and 1-channel SDI video input and output. The recording resolution is adaptive, and the maximum recording resolution is 1080p60. Support external audio embedding; Support recording pre monitoring. Hdr6101 can meet the needs of audio and video recording, such as radio and television, outdoor sports events, medical teaching, school courseware making, etc.
Functional features:
Standard 1U all metal body, high strength, light weight
System integration control panel and OSD
Recording resolution adaptive
Recording format support
1080 p60 p50/1080/1080 p30/1080 p25/1080 p24 i60/1080/1080 i50
Support for external audio embedding
Support SDI/HDMI recording
Support HDMI output preview
Support FAT32/ EXFAT format hard disk
Recorded code rate up to 10Mbps
Support online software upgrade
Devicewell horizontal and vertical display monitor pm1007 is a professional monitor supporting vertical display. The input interface is SDI + HDMI, which can display the screen horizontally. At the same time, it is a 17 inch monitor that can switch the output vertical display screen through the operation panel.
PM1007 supports one-way SDI and one-way HDMI signal input, supports USB upgrade function, and adopts DC 12V power supply system.
When PM1007 displays multiple pictures, it can maintain the size and proportion of the original sub window by re layout, and rotate 90 degrees to display. Viewing the vertical screen content on the horizontal screen is more in line with the visual characteristics of the human body.
Devicewell TALLY system, with md1011 as the indicator and md1010 as the transmitter, is compact and portable, small in size and light in weight. It is suitable for live broadcast activities such as performances, parties, shows and interviews, as well as professional video equipment.
Wireless TALLY indicator light, with power switch, operation indicator light and charging indicator light, built-in lithium battery, can work for about 6 hours, in work, standby is not on, bright green is PVW, bright red is PGM. Bright orange means live broadcast, and pre broadcast means the same signal.
Functional features:
Smart and portable
Red and green double light indication
USB 5V power supply
Open transmission distance ≥ 350m
Hot shoe hole location
Direct connection of hds7105 switcher
PVW / PGM status indicator for 1 Torr 4 or more pairs
Strong anti-interference ability
The ud1008 of Devicewell UD series is a UVC output device which is convenient for terminal image acquisition.
Ud1008 is a live broadcast auxiliary device developed for the general live broadcast market. SDI or HDMI signal input can be selected by set dial code, and the commonly used SDI signal or HDMI signal can be easily connected to the computer, so that users can access their own live broadcast platform flexibly. The device supports UVC + UAC function, connects to the PC device through the output signal, and connects with OBS software, so that the audio and video of live picture can be transmitted to the audience in high-definition 1080p streaming media.
The device is equipped with Micro USB interface for power supply of equipment, and can be used for power supply system of USB mobile devices such as charging treasure. In addition, the equipment is equipped with 1/4 hot shoe screws, which is convenient for professional users to fix the equipment.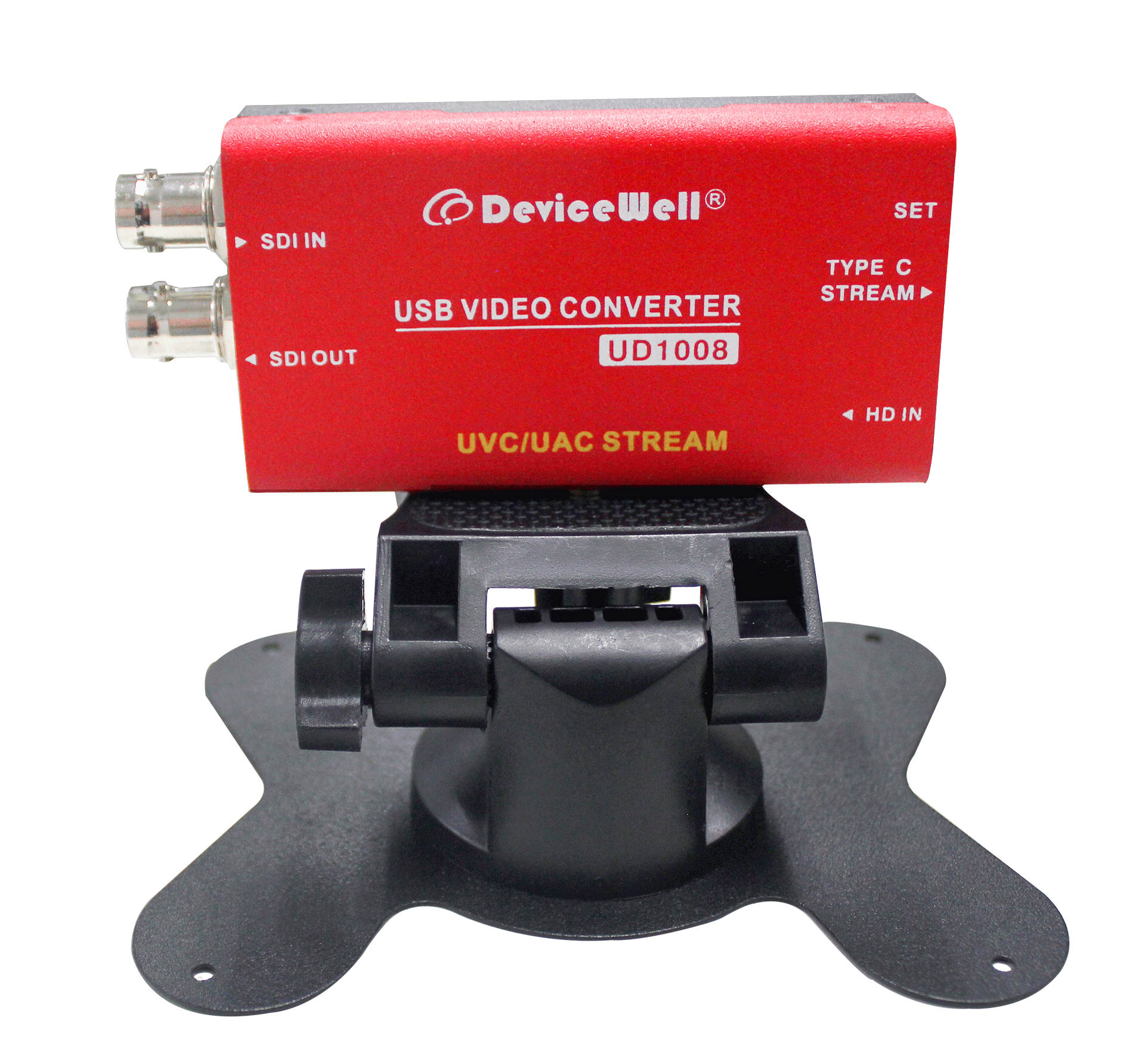 Functional features:
SDI+HDMI transfer to UVC/UAC
Support UVC protocol output
Dual interface input, support SDI+HDMI
No need for external power supply, USB can be powered inside
Support interrow to row by row
Support Windows, Android, etc

With the increasing development of the network, online live broadcasting platforms are becoming more and more popular. The era of nationwide live broadcasting has also arrived. Online live broadcasting is becoming more and more popular, and live broadcasting has entered every aspect of our life. If you want to have a good live broadcast, it is very important to have a professional broadcast room. A good broadcast room needs a professional broadcast guide/switching station. Devicewell focuses on providing professional broadcast guide platform and professional live broadcasting solutions, including web celebrity live broadcast, enterprise live broadcast with goods, large evening party live broadcast, online education live broadcast and other solutions.
Devicewell always pays attention to the needs of customers, takes meeting the needs of customers as the driving force of development, and Devicewell is committed to developing more innovative and fun audio and video products for the majority of users. Thank the new and old customers have been the support and trust.