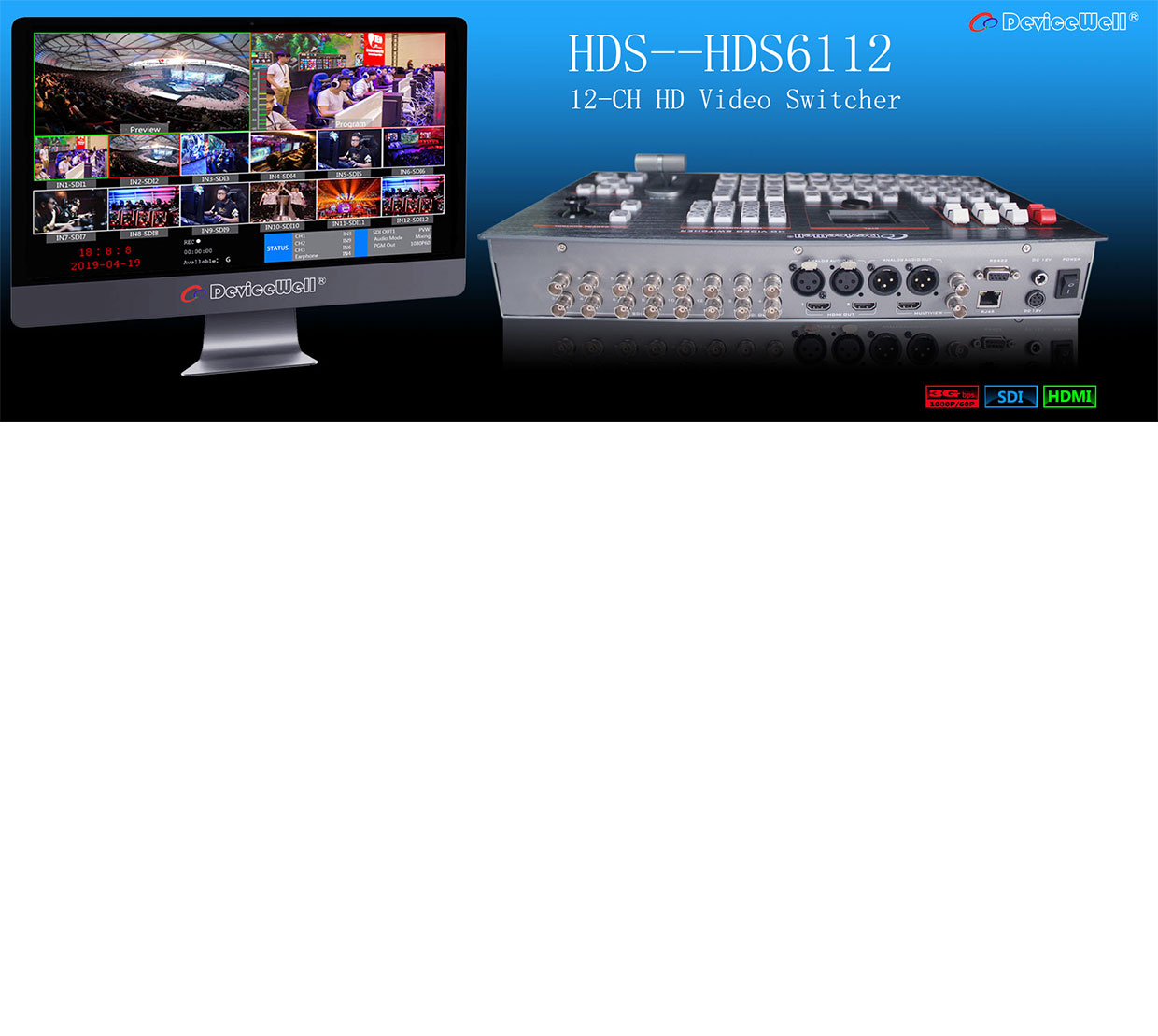 HDS6112
All-In-One HD Video Switcher
Devicewell HDS6112 12-channel switcher is a cost-effective, broadcast-quality, all-
in-one HD video switcher that supports 10-bit 1920 x 1080i video output with 8
1080PSignal input, designed for live events and TV shows that require a mix of
multiplevideo and sound sources. The HDS6112 has the perfect mobile navigation
system. It isalso a complete mobile system. It also keeps HD and SD capable of
simultaneouslyinputting and switching, amplifying 12 sets of inputs and dual DSK
functions with upto 10 screen split displays, which can bring you more exciting
positions production. SD,HD and 3G video format input adaptive, can directly record
PGM video source to SDcard, LCD panel real-time display the working status, a variety
of special effectstransition with T-bar, no need complicated operation, you can easily
create excitingprogram that meets your needs for on-site production.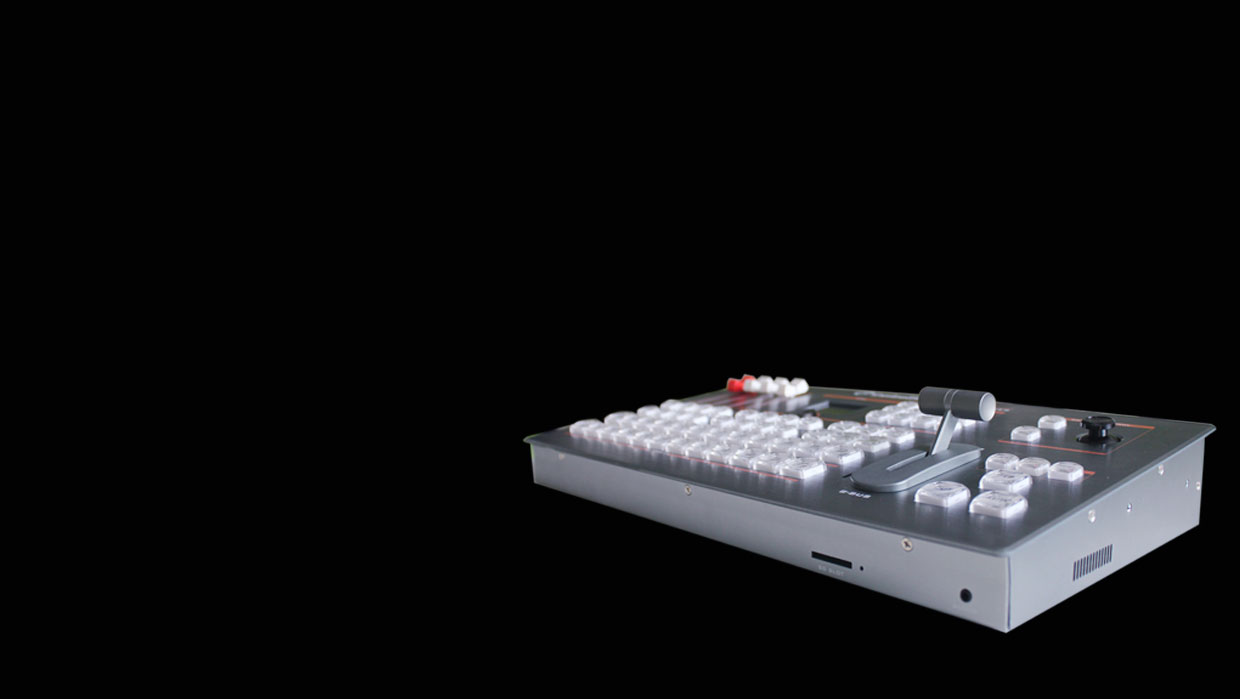 12-CH SWITCHER--HDS6112
Compact and all-in-one design to create a
stylish switcher
The Size of HDS6112 12-channel HD
video switcher: 409.94*227.9*62MM,
all-aluminum case, HD video switcher
with multiple operations

LED button of HDS6112 12-channel
HD video switcherThe ultra-feeling
"LED illuminated button" has clear
markings for each button, making
operation easier.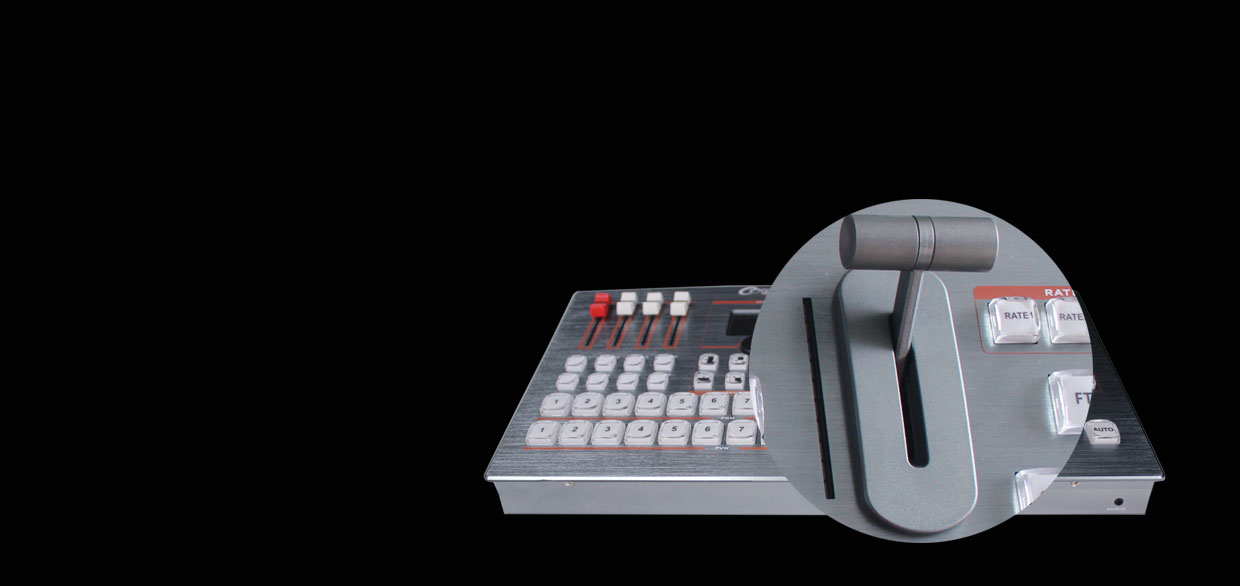 T-Bar and LCD of HDS6112 12-channel
HD video switcher The LCD panel
displays the information of the
switcher. T-bar can realize
switching operations and
other operations in real time.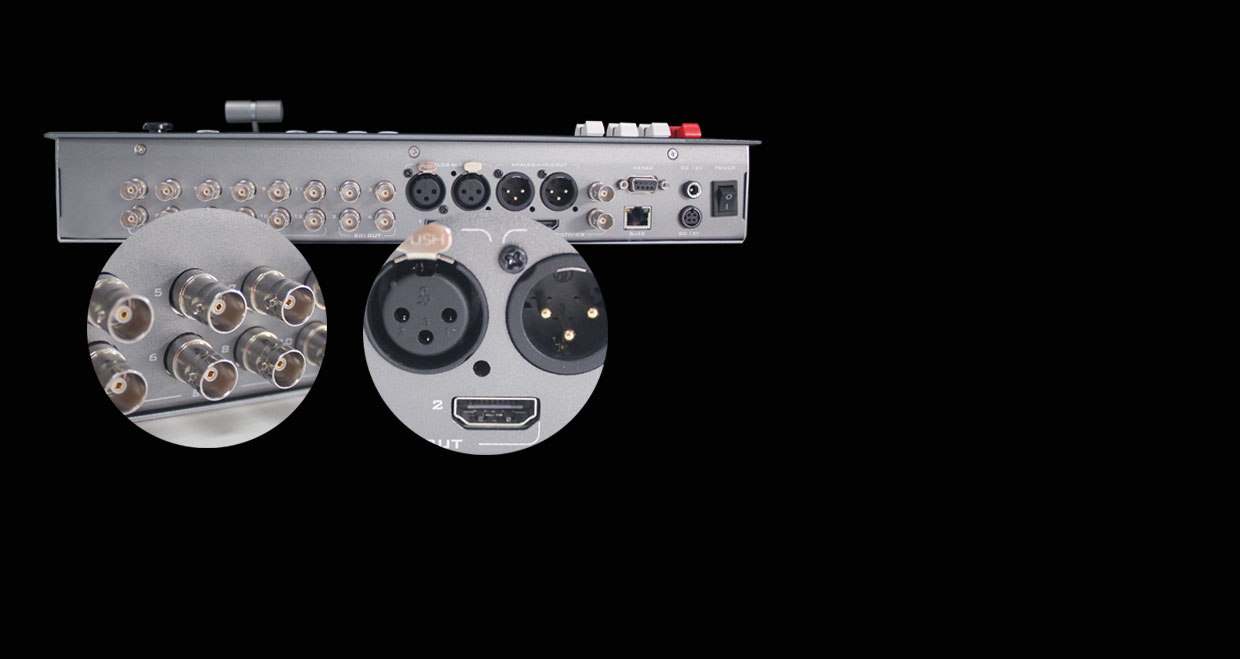 Rich interfaces of HDS6112 12-channel
HD video switcher 12 channel switcher
input: 12*SDI Output: 4*SDI,
2*HDMI 1*HDMI and 1*SDI multiview output...
HD video switcher for multi-format video input
and output
All-In-One design, aluminum alloy material
Support 14 screen split monitoring
Support SD/HD/3G signal format
Input: 12*SDI
Output: 4*SDI, 2*HDMI PGM output
Multiview output 2*SDI, 1* HDMI
1* XLR balanced audio input&output
Support SDI audio de-embedding; support audio follow-up and mix switching function
Input format auto-detected and output format selectable
Record PGM video to SD card, up to 1080p60
Support 1*SDI custom output PGM/PVW
Support 1*AUX output
Support audio monitoring function, easy to monitor any audio and PGM live output audio
PIP/POP window size and position adjustable
T-Bar/AUTO/CUT/FTB transitions and MIX/ FADE/ WIPE/INV effects
Luma Key&Chroma Key; Support overlay icon
Support RS422 control cameras
Support PC software remote control and upgrade
High-end equipment suitable for different scenes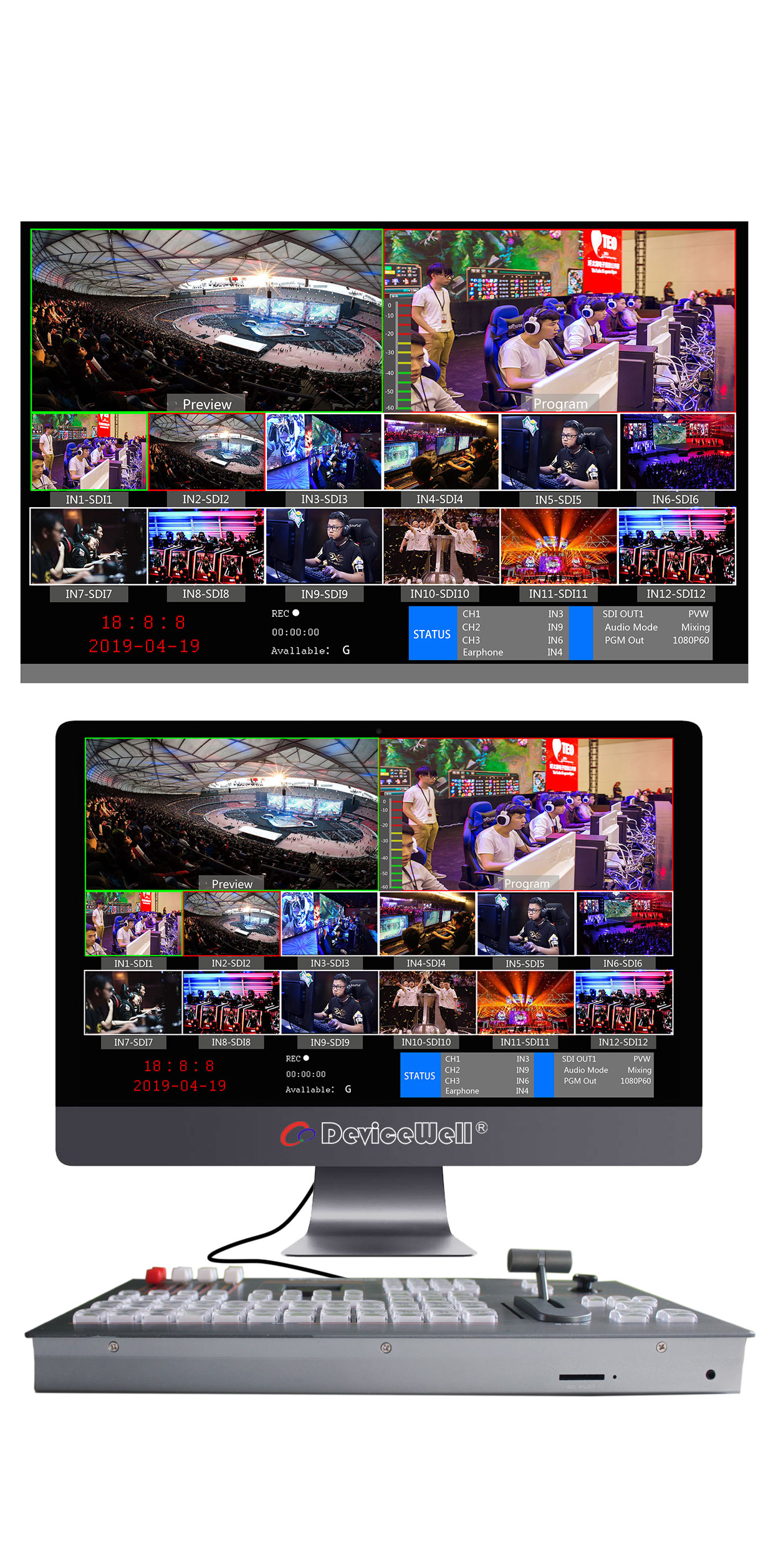 HDS6112 12-channel multiview monitoring
Up to 12 interface windows for monitoring,real-
time display of clock, recording and menu
information
When the HDS6112 is used to create a multi-camera live program, the
multiview output can be displayed on one HDMI monitor, and the screen
splits and displays up to 10 video signals! Therefore, you can view the camera
screens, as well as previews, graphics, clocks, menu information, and final
program output screens on the same monitor.
Instructions
HDS6112 supports SD card recording, PGM
output one-click recording to SD card, support
MP4 format recording, recording resolution
1080P60

1080P60 Ultra HD output, restore true
color:Supports up to 10-bit 1920 x 1080i
video output with 8 bit 1080P signal input
1080p video signal can vividly restore
high-fidelity, high-definition camera and
computer video signals.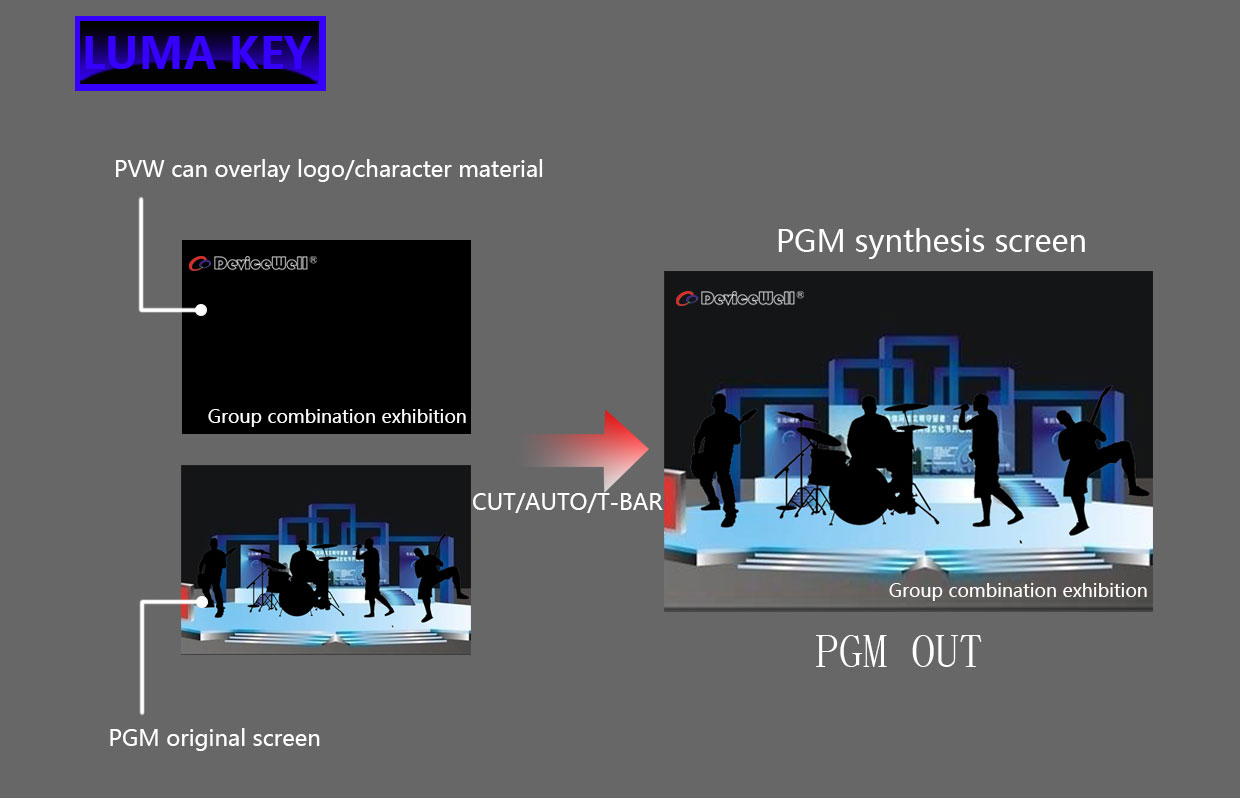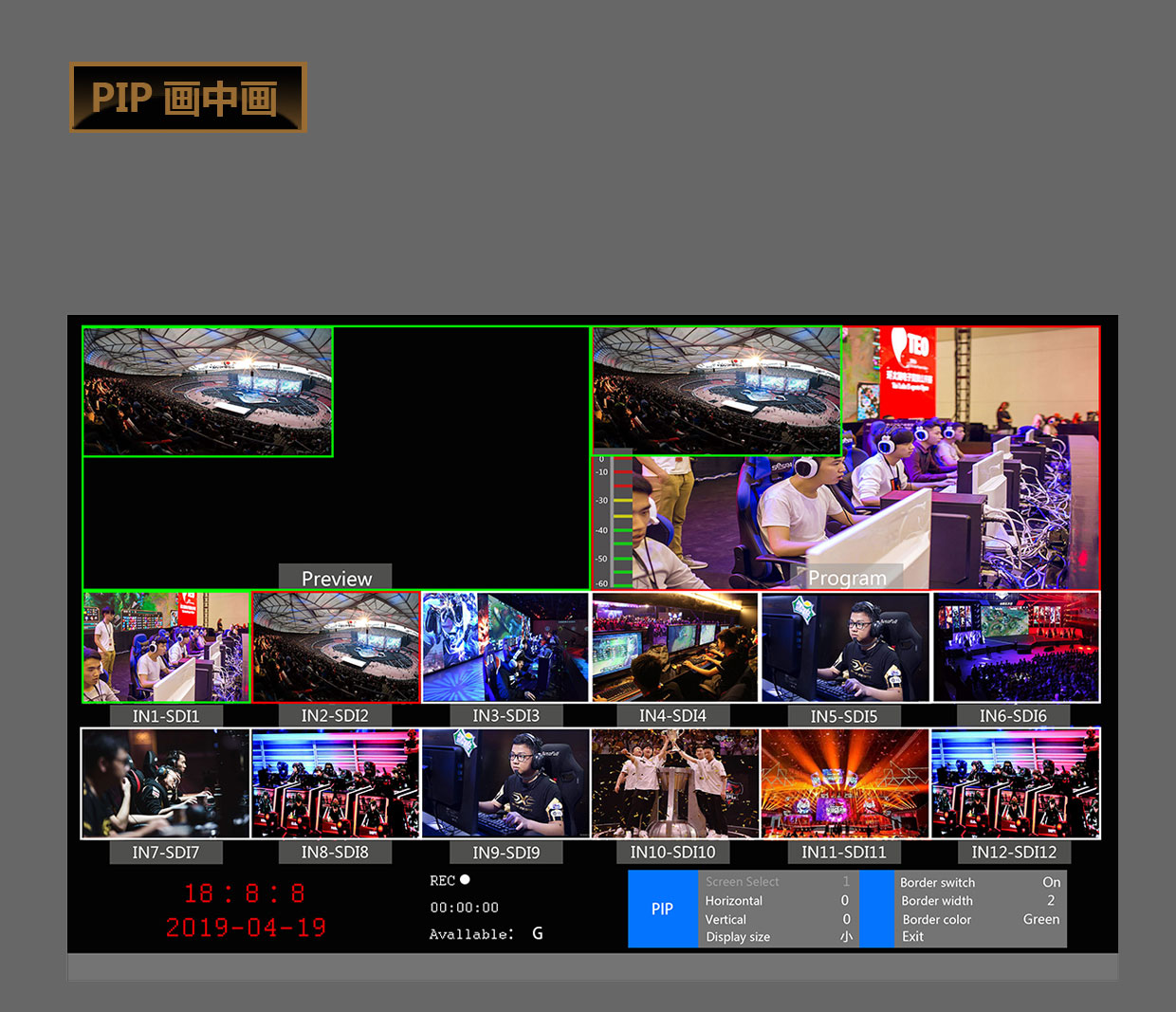 The size of screens in the PIP mode can be switched, and the border color
can be changed at will (red/green/blue/white optional) to achieve feature
article functions, which is very practical and individual.
POP is also a simple operation that can be realized to achieve split screen
monitoring effect

Rich and comprehensive interface panel:
The HDS6112 supports a variety of signal input formats, including up to 12 SD video
source input interfaces, and the SDI interface can be used to connect 3G, HD, and SD.
The DVI-I connector is used to connect to DVI-D, DVI-A, and even HDMI via a simple
HDMI/DVI converter. The Mini D-Sub 15-pin connector can be used to connect SD/HD
components or to connect to a computer via RGB.

HDS6112 HD video switcher
supports 12-channel SDI
video source input,
supporting up to 8 camera
source inputs

HDS6112 HD video switcher
supports 12-channel SDI video
source input, supporting up to
8 camera source inputs